Limited Edition (CD)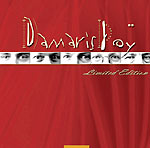 "Limited Edition" heißt das sechste Werk von Damaris Joy,
veröffentlicht im März 2002. Die 12 neuen englischsprachigen
Songs haben inzwischen viele begeisterte Zuhörer gefunden
hat. Natürlich ist die Auflage nicht limitiert - der Titelsong
beschreibt, dass jeder Mensch eine ganz eigene
"Auflage" ist und doch in seinen "Limits" lebt.



[CD bestellen] 14 Euro + Versand



Mal reinhören?


Limited Edition

Loves Comes To Town

Take It As It Is

Night Of The Proms

Do We Ever Know

Love Is

Talk It Over

Pick Up The Fallen Ones

We´re Still Gathered...

Summer Rain

Any Time

Gentle Light